Burger Boxes Packaging in Pakistan
Food businesses, be it a fast food chain, a small restaurant or any home-based food business, require food packaging. The trend of takeaway and food deliveries has increased many folds after covid-19. People like to have their meals delivered in the comfort of their homes.
For this reason, restaurants owners can't do better without cost effective and visually attractive food packaging. The most important of them is the Burger box as most food restaurants, fast food chains, and even home-based chefs have them on their menu.  
Sustainable Burger Packaging Box
The first thing a customer observe when they receive the burger, even before they taste it is the packaging box. The material, style, design and sturdiness of the burger box can play a great role in attracting more customers to the business. If your burger box is not sturdy, strong, and pleasing to the eye, you could be missing out on the opportunity to have a higher number of returning customers. 
In these times of climate change, where everyone is thinking to switch to eco-friendly products, it is very important to focus on making sustainable burger boxes. No other type of burger packing can match a burger box that is aesthetically pleasant as well as plastic-free and environment friendly.
However, it is quite challenging to find the right type of burger box as there are so many options in the market. We suggest that the best for you is the one that is best for society and the environment. 
Personalized Burger box
We recommend you go for customized boxes for your business to keep your uniqueness. A customized box is also a source of advertising your business so why not go for a custom made burger box for your business? The right company to provide you with the perfect burger box is always ready to listen to your requirements and make changes to accommodate your style.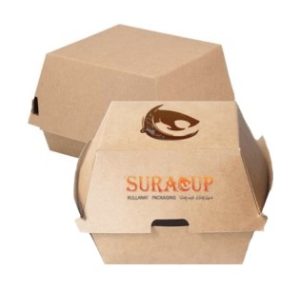 How to Choose the Best Burger Box?
Although it is quite puzzling to find the right burger box for your burger's delivery and take away orders, here are some key points to remember when you are finalizing the perfect burger box for your restaurant. 
The first thing to keep in mind is the variety of burgers you are offering to the customers. If there is a range of burgers that your restaurant is offering then we suggest you go for small burger boxes because they serve the best for large restaurants offering different burgers. The small burger boxes are preferred by most restaurants and chefs. After all, they are cost-effective and easy to carry.            
Always prefer the burger box that is made of plastic-free, biodegradable material because that's how you can keep the burger fresh along with saving your environment. Recycling of the box should always be kept in mind because at the end of the day all the wastage should be biodegradable. 
The burger box should not only be attractive but functional as well. A box that is durable and strong is always going to help your business. It should also have vent holes in some cases to prevent the burgers from getting soggy. It should be comfortable to use. Only a good quality box can help you stand out among the competitors. 
Also check: Soap packaging boxes 
And: Cake packaging boxes
Find the best Burger Box Packaging Company
If this is your start to order a custom made burger box for your business, it is suitable to select an online business, that has the experience of making and supplying burger boxes to many restaurants and a website that has customer reviews about the packaging products. 
The next thing is to communicate your preferences to the box packaging company and see which company best matches your requirement. A trusted burger box manufacturing company, like Nashonuna, will always make sure that your box is aesthetically pleasing because a burger box is a crucial marketing tool as well. It introduces your business to everywhere it goes.
You must be wise enough to allocate a decent budget for the burger box because a very low budget results in a poorly designed burger box which eventually affect your business negatively. Always keep in mind that you must invest wisely considering the marketing of your business. The burger box is an image of your brand.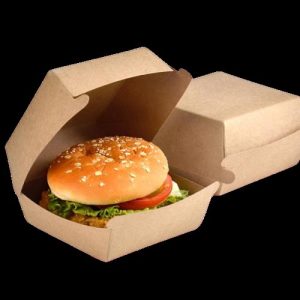 About Nashonuma – The Burger Box Packaging Company  
Nashonuma is committed to delivering the best and most desirable burger boxes in Pakistan. Our burger boxes are especially liked by our returning customers because they are sustainable, plastic-free, cruelty-free and biodegradable.
We are committed to producing products that are environmentally friendly and plastic free because that's how we can make our country clean and healthy. Therefore, at Nashonuma, our experts produce the Burger Boxes either with Kraft paper or Cardboard paper depending on the requirement of our valuable clients.
We focus on using biodegradable materials to make the burger box because not only does it keep the environment safe but also it keeps the burger fresh. 
We also offer customized printing of your company logo and details on the burger box. You can get the printing done according to your company's style in any colour and design. We encourage you to communicate openly so that new ideas can be shared because creating unique styles is our preference.
We use organic dyes to colour print the boxes making sure that everything is eco-friendly at the end. the dimensions of the Kraft single Burger Box manufactured at Nashonuma is 5 x 5 x 3 inches having food grade 250 gsm but we can customize the dimensions and grade as per your requirements. 
Feel free to talk to our CSR anytime regarding your requirements and get the most desirable and eco-friendly Burger Boxes delivered to your doorstep.