Cake Packaging Boxes
The cake business in Pakistan has gained a lot of hype recently. Many new home-based entrepreneurs with excellent baking skills are selling a variety of cakes, brownies and other desserts because of the outstanding profit potential cake and desserts business offers.
However, a good and a sellable cake also needs a good package box, so that it can be delivered to the customer in perfect condition without any mess or trouble. The cake packaging also gives the first impression of your brand so it must be very presentable and give a professional appearance.
How to Choose the Perfect Cake Package Box?
So your cake is ready but how to choose the perfect box for it? Well, the first point to consider is the size of your cake board/drum. The boxes that are exactly according to the size of the cake board help prevent the cake from movement during transport, and so the cake is sheltered in the box nicely. This is the tip for choosing the box for a standard shape cake. 
However, some cakes have decorations on the top and for that, you have to assess the size of the decoration so that you can increase the box size accordingly. There are always some exceptions, for example, if you are using a hexagonal shape cake board then your box has to be 2 inches larger than the size of the cake board. 
Also read: Food packaging boxes in Pakistan
Uses of Cake Package Box 
The prime purpose of the cake packaging box is to hold the cake, brownies, cupcakes, cookies etc properly so that they are not smashed during transport from one place to another. But other than this practicality, your cake box can also serve to attract and impress your clientele.
People who are running their cake business know how important is the presentation of their product, be it a cake or cupcake or any baking item. There is an unlimited competition going on in this industry therefore, unique and personalized cake packaging plays a great role in attracting the audience.  
Types of Cake Packaging Boxes
Cake packaging boxes come in different designs and the type you require depends upon the cake size and cake design. The most common type is the white folding box which is delivered flat. They are strong and can easily erect. They look clean and professional as well.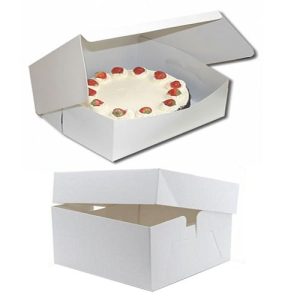 One of the most economical choices is the one-piece window box. They have a window at the top of the lid which allows you to see the cake from the top. How convenient is that! These boxes are used not only for cakes but for cupcakes, cookies, brownies and any bakery item. They are usually preferred because you can see the product and has a fancy look.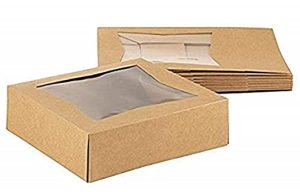 Next is the stack and pack American style cake box. They have a separate lid and are pretty strong too. They are usually crafted from card paper. They come in a standard size but can be customised too. They are usually used for big cakes.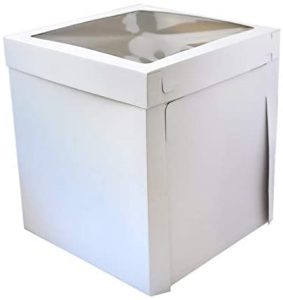 Also read: Soap packaging boxes                         
Selection of Cake Packaging Box 
Hundreds of cake packaging box companies are working around the country. Considering the effects of plastic pollution, most companies are working on making cake boxes from food-grade material. Before selecting the cake package box for your business, decide the size and shape of the box you require.
Do some research about the most practical and economical cake packaging boxes suppliers available near you? You must know the colour of the cake packaging box required. Then comes the material of the box. When selecting the material for the cake packaging box, keep in mind that you are going to deliver food items so they must be plastic-free completely.
You cannot place food with plastic packaging because everyone knows how plastic damages our health and environment, for this reason, kraft board cake packages or cardboard packaging is the finest to choose. 
After choosing the cake packaging box design, ensure that your company name and logo is printed on the box. In this way, the cake box will provide a professional look. 
Nashonuma Cake Packaging Boxes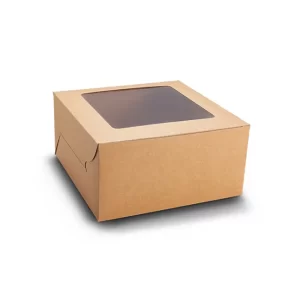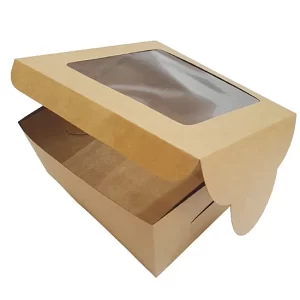 About Us – Cake Box Packaging Company
Nashonuma is one of the leading food packaging services in the country. At Nashonuma, our priority is to provide personalized cake packaging boxes that are eco-friendly. Our mission is to keep your cakes fresh and away from all the chemicals that are usually used to produce plastic boxes. Plastic products are a big No for us. Therefore, we guarantee that our boxes are safe for the product as well as for the environment. 
We suggest that the most appropriate box for small scale cake businesses is in the box with a window at the top. They are suitable because the client can offer them as a gift as well.
Our boxes come in two sizes i.e. 12.5*12.5*4.5 inches and 8.5*8.5*4 inches. In addition to these two standard sizes, we can also make customized cake packaging boxes with personalized printing on the boxes however, for customized design and printing, your order must be of 1000 pieces so that we can offer you the most economical price per piece. 
Our cake packaging box is mostly made of kraft paper mainly because it is biodegradable but cardboard paper can also be used depending on the requirement. We use standard dye to colour the box but you can also order boxes in customized colours. Our highly skilled workers make sure that the design of your cake package box is comfortable enough to carry it anywhere as well as appealing to the eyes. 
Our customer care representatives are always there to guide you according to your specifications and requirements. Feel free to contact us and we will deliver your required box at the most cost-effective price at your doorstep.